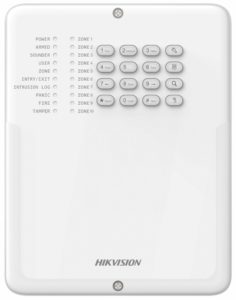 Hikvision 12 Zone Intrusion Alarm Panel is an innovative product in the intruder alarm systems segment, which ensures complete security for home, retail outlets, banking, warehouses, commercial offices and many more. The 12 Zone Intrusion Alarm Panel connects security sensors such as motion detectors, magnetic contacts, displacement sensors, alongside safety devices like smoke and heat sensors to keep people and your premises safe.
Hikvision 12 Zone Intrusion Alarm Panel has an onboard keypad for controlling, programming and monitoring using onboard LED Indicators. This 12 Zone Intrusion Alarm Panel further supported by GSM auto dialer for an event or alert based call and SMS.
Smoke & Heat Detectors can be used with 12 Zone Intrusion Alarm Panel for cost effective fire protection solution.
Key Functions: –
INTRUSION IS DETECTED: Un-authorized activity is detected by sensors like motion detectors, door contacts, glass break detectors and by many more sensors.
CONTROL PANEL ALERTED: Sensors are linked to a control panel and all kinds of activities are detected here. Control panel further takes preprogrammed action.
ALARM IS SOUNDED: Sounder or hooter is connected with the system. Once an intrusion is detected using sensors, sounder alert will be raised for deterrence.
REMOTE ALERTS: Remote alerts can be received via Call & SMS with GSM Auto dialer based model of 12 Zone Intrusion Alarm Panel.
ALARM IS DEACTIVATED: Once deterrence is achieved, an alarm will be deactivated or armed in normal condition to detect any future events or intrusion.
USPs of 12 Zone Intrusion Alarm Panel:- Easy & quick installation,  onsite configuration, battery backup, quick wired connections, onsite alerts, easy to operate, safe & secured, Intrusion alarm with and without GSM auto dialer, inbuilt GSM dialer, user controlled intrusion, smoke, panic detections and economical.
Key Features: –
Onboard keypad
With & without GSM module
12 onboard zones with strong ABS plastic body
Onboard LED indicators
Onboard power supply
Smoke & panic zones
SMF battery backup
Tamper alerts for sensors
Compact & light weight
Dedicated Tamper for front cover and back cabinet
12V onboard SMPS
Stable Power Supply : 100V AC to 240V AC
Operating Humidity : 10% to 90%
Operating Temperature : -10 to 55 Deg C
LED Indicators : 20 LEDs
Dimensions : 225 x 198 x 81.85 mm
Material : Strong ABS body
Colour : White
Battery : Space to add 12V, 7Ah battery
Weight : 936 g (without battery)
For more information, please visit us at www.hikvisionindia.com